Schlumberger sells non-core drilling assets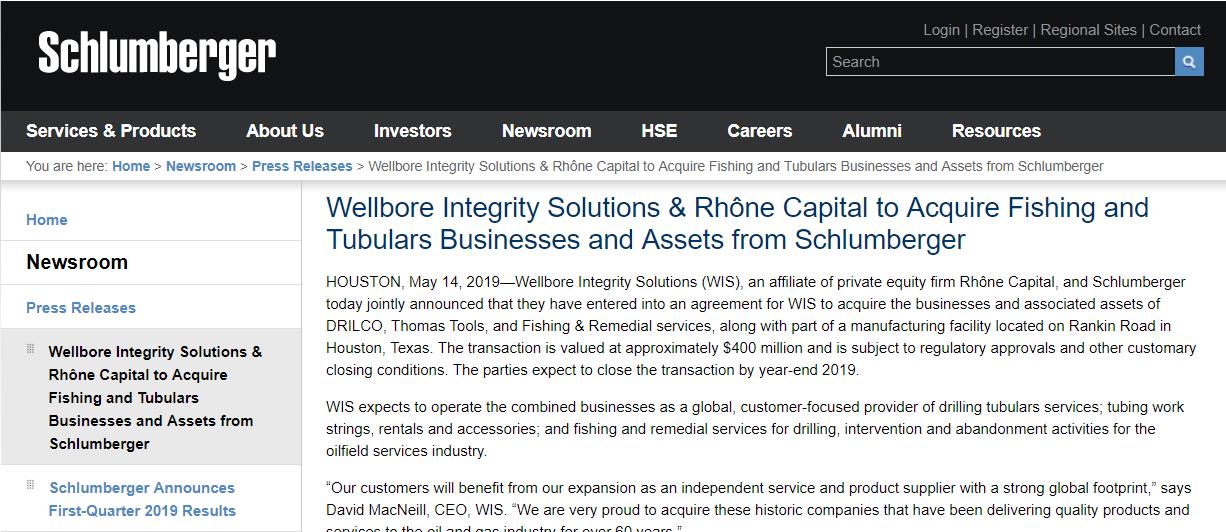 Schlumberger has entered into an agreement with Wellbore Integrity Solutions (WIS) to buy various non-core drilling services for US$400 million.
The deal will see WIS acquire the businesses and associated assets of DRILCO, Thomas Tools, and Fishing & Remedial services, along with part of a manufacturing facility located on Rankin Road in Houston, Texas. WIS is part of private equity-backed Rhone Capital.
The deal is expected to close by the end of 2019 and is subject to regulatory approvals and other customary closing conditions.
WIS expects to operate the combined businesses as a global, customer-focused provider of drilling tubulars services; tubing work strings, rentals and accessories; and fishing and remedial services for drilling, intervention and abandonment activities for the oilfield services industry.
"Our customers will benefit from our expansion as an independent service and product supplier with a strong global footprint," says David MacNeill, CEO, WIS. "We are very proud to acquire these historic companies that have been delivering quality products and services to the oil and gas industry for over 60 years."
Kristi Vilay, president, Bits & Drilling Tools, Schlumberger, added: "The DRILCO, Thomas Tools, and Fishing & Remedial businesses will have greater opportunities for growth uniquely positioned within a strategic buyer's portfolio. This divestiture will enable Schlumberger to focus on its core drilling strategy, including the development of automation technologies that can be enhanced by digital enablement."

From:Pipeline OIL & GAS NEWS