Training
Anton's rapid development is due to the rapid development and training of talents. All levels of employees of the company can get more developing opportunities under the systematic training and cultivating control mechanism,.and company's rapid development is due to the rapid development of personnel and training.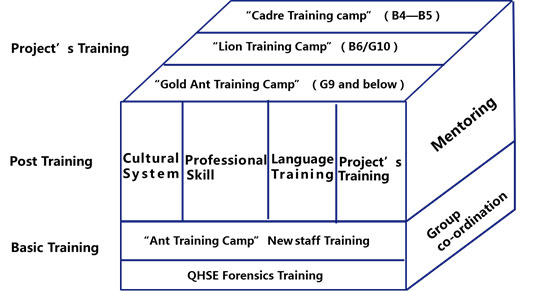 Elaborate Items
Apprentices Training of Campus Recruitment
As an independent private oilfield services company, to have highly qualified skilled talents is the core of the company's competitive advantage. Training a large number of high quality graduates of campus recruitment line with the company's development has become one important driving force of the company's continuous development.
Estimated Campus graduates are the only source of "trainee". Company "apprentice training program" began in 2007, and its goal is to cultivate employees with a passionate and professional identity of the company culture, competent job requirements and have professional literacy through the "apprentice training period". According to Global Talent Bank and Optimal Career Matching follow the direction of the development of two training paths orientation training.
5+ 3 + 2 (5 months of on-the-job learning in production line plus 3 months of on-the-job learning in functional department plus 2 years of on-the-job learning in global position)
1 to 2 weeks of job instruction in Ant team
5 months of on-the-job learning in Production line
3 months of on-the-job learning in Functional department
2 years of on-the-job learning in Global position
Content
-Company culture introduction
-QHSE knowledge
-product department introduction
-occupation preparation
-enterprise culture learning
-participation in the daily work
-infirmation practice
-QHSE practice
-finish assigned task
-professional knowledge learning and practical skills
-enterprise cilture cognition
-Application of learned knowledge
-ocupation courses
-enterprise cilture cognition
form
Classes and activities
-Class lectures
-team activities
-high-level discussion
-millitary training
on-the-job learning
-general training/in-turn post
-instructor guidance
-on-the-job tasks
on-the-job learning
-class lectures
-model practice
- on-the-job tasks
on-the-job learning
-general training
-instructor guidance
-on-the-job tasks