Anton and Shengli Oilfield Technical Exchange Symposium Held Successfully
On December 4, Luo lin, Chairman of of Anton, led a team to Dongying, Shandong, had a technical exchange symposium with Zhang Yu, General Manager of Shengli Petroleum Administration Co., Ltd., Niu Shuanwen, Deputy General Manager of Shengli Oilfield Branch, and experts from the Oil and Gas Development Management Center. The two companies carried out technical exchanges on the unexploited reserves block development status and problems in Shengli Oilfield.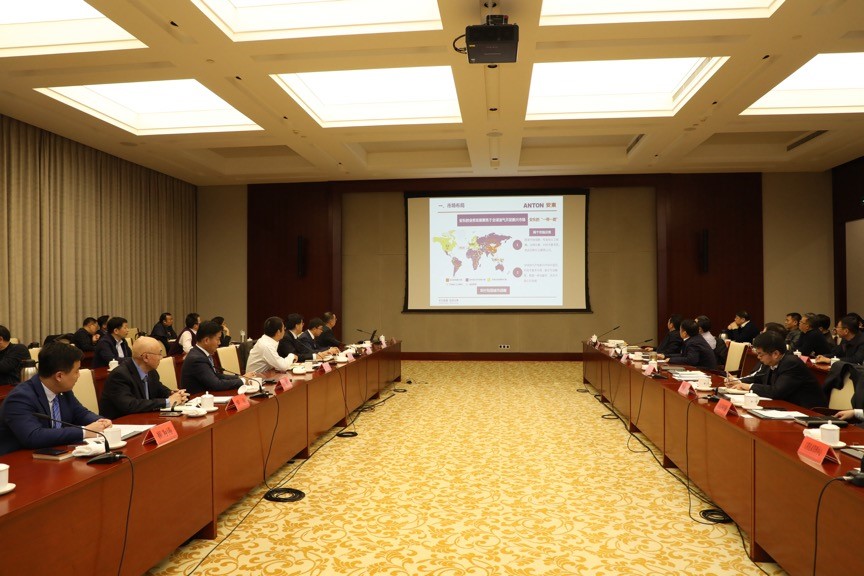 At the symposium, Luo Lin expressed his gratitude to Shengli Oilfield for all the years of support and help. And after briefly introducing the basic situation of Anton, he made specific suggestions for the development of inefficient oil fields. Luo Lin said that Shengli Oilfield has accumulated a lot of advanced experience in the development process and has a group of high-level experts. He hopes that through exchanges and cooperation, the two companies will further strengthen the exchange and sharing of the unexploited reserves block development. Anton will provide high-quality technology and services for Shengli Oilfield in the cooperative development.
During the discussions, Anton technical experts gave technical explanations on Technical services of integrated geology and engineering, production enhancement series of technologies, and oilfield completion and production enhancement integrated solutions. The experts of Shengli Oilfield Oil and Gas Development Management Center introduced the development status and technical requirements of the unexploited reserves block in the oilfield and conducted targeted technical discussions with Anton's technical experts.
General Manager Zhang Yu welcomed the arrival of Luo Lin and pointed out that Shengli Oilfield is currently accelerating the exploration and development of unexploited reserves block. Through this discussion and exchange, the oilfield has gained a lot of new ideas, and increase the confidence to make "difficult to exploit reserves" become " unexploited reserves". Zhang Yu said that Shengli Oilfield will continue to introduce new technologies and concepts with a more open attitude to promote sustainable and high-quality development of the oilfield. He hopes that Anton will continue to participate in the development of unexploited reserves, provide strong support in technology, management and services, opening up a new win-win situation for bilateral cooperation.