First energized acid fracturing technique with nitrogen in Halfaya oilfield was implemented successfully
On August 31, Energized acid fracturing technique in Mishrif carbonate reservoir was piloted successfully. This is the first trial to pump liquid nitrogen together with acid frac fluid into formation. The acid fracturing job was finished with workover rig.

This trial integrated the nitrogen with acid fluid, aiming to reduce rock-acid reaction rate and boost the formation energy. The flow-back results demonstrated the feasibility of the nitrogen application in acid fracturing operation, the well established natural flow-back continuously, and the flare was ignited after 4 hours of drainage, tested production capacity was 800bbl/d, far exceeding customer's expectations.

The pilot well,with characteristics of low permeability, located at the edge of anticline structure. The challenges are how to create long etched fracture, reduce acid leak-off, and control the fracture height not propagating downwards the bottom water and boost post-frac flow-back. The innovation of the energized acid fracturing with nitrogen solve all these challenges.

Previous acid fracturing wells could not initiate continuous flow-back, due to the low pressure coefficient. In a conventional way, nitrogen lifting with coiled tubing units was utilized to boost flow-back and create stable oil flow. This creative pilot not only saved the cost of nitrogen lifting with coiled tubing for PCH customer, but also explored a new technical route for the future development of low pressure coefficient formation in Iraq, indicating that stimulation for Mishrif carbonate reservoir has entered a new era.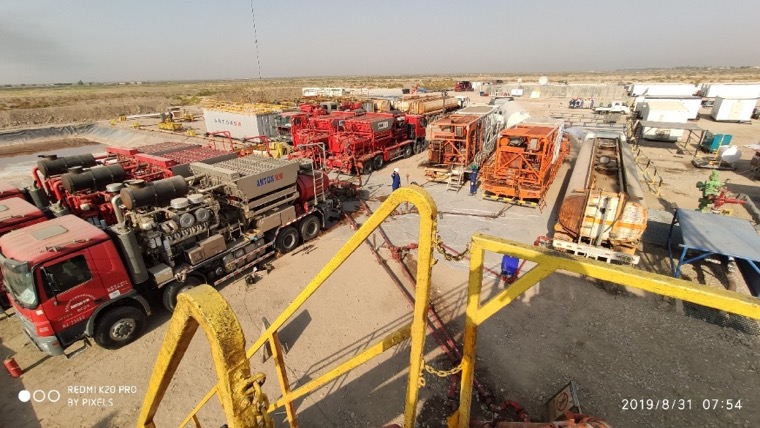 Acid fracturing equipment layout on location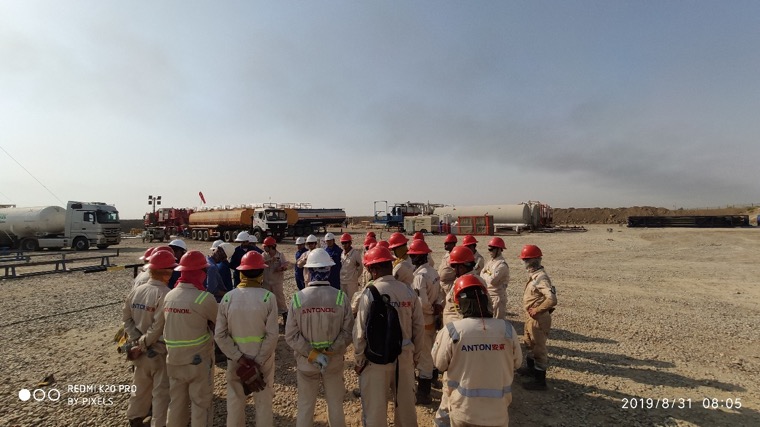 Technical meeting befor the acid fracturing job on location